PICTURE, Studio of Classical Painting Disciplines of Prof. Ľudovít Hološka
PICTURE, Studio of Classical Painting Disciplines of Prof. Ľudovít Hološka
Faculty of Fine Arts Academy of Arts in Banská Bystrica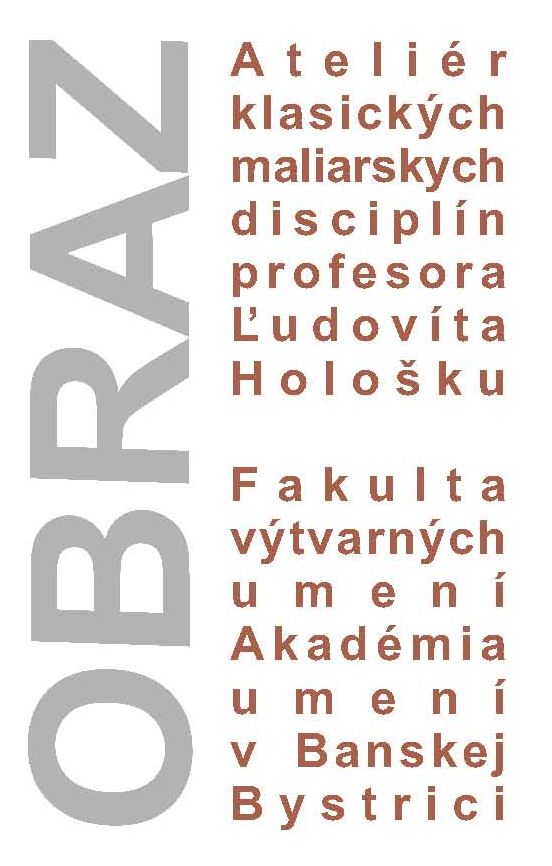 Author, exhibition title: PICTURE, Studio of Classical Painting Disciplines of Prof. Ľudovít Hološka
Venue: Zahorie Gallery of Jan Mudroch in Senica
Exhibiting authors: Zoltán AGÓCS / Mária AMRICHOVÁ / Elena BAČOVÁ/ Pavel BRATRANEC / Petra CISÁROVÁ (Kršáková)/ Roman ĎURČEK / Ľuboš FERANEC / Martina FICOVÁ (Lacová) / Vladimír GANAJ / Marek GUMAN / Jozef HALENÁR/ Peter HITZINGER / Martin IMRICH / Juraj JAROŠ / Ján JUHANIAK / Beata KOČNER BENCOVÁ / Mária KLOCOKOVÁ (Gulášová) / Stanislava KOČIŠOVÁ (Čerťaská) / Aneta KOLESÁROVÁ/ Lada MIKUŠOVÁ KOPNICKÁ / Dominika KORINKOVÁ / Nadežda KOYŠOVÁ / Mária KRÁLOVÁ VOJČIAKOVÁ / Adam KRUTÁK / Martina KUKUROVÁ / Veronika KUPČOVÁ / David LIKAVČAN / Magdaléna MASÁROVÁ / Zuzana MIKLOŠOVÁ / Michaela MURÍNOVÁ / Monika OREMUSOVÁ / Kristína ORTH MINČÍKOVÁ / Viera PALÁRIK MARGETOVÁ / Lukáš PAŽITKA / Ľudmila PILNÁ (Hološková) / Jana PIRCHALOVÁ / Roman REMBOVSKÝ / Mária SITÁROVÁ / Zuzana STUPAVSKÁ (Kapinová) / Lenka SVÁTKOVÁ / Juraj TOMAN / Eva TŐRŐK / Marek URBANOVSKÝ / Vladimír VAKOV / Veronika VALAŠŤANOVÁ / Dušana VRBOVSKÁ
Curator: Božena Juríčková, Ľudovít Hološka
Opening: 2019/10/10 at 5PM
Duration of the exhibition: 2019/10/10 – 2019/11/24
Ľudovít Hološka (1943 Jablonica) resonates in the consciousness of both professional and broad cultural community as a painter, illustrator, art theorist, curator and author of many exhibitions. However, since the mid-1970s, a renowned artist has been involved in the field of teaching. He worked at several art colleges in Trnava and Bratislava. and in Torun, Poland at the University of Nicholas Copernicus. An important chapter is his performance at the Academy of Fine Arts and Design in Bratislava, where he held several positions between 1988 and 2008. In 2001, shortly after the founding of the school, he anchored at the Academy of Arts in Banská Bystrica at the Faculty of Fine Arts. Here, in addition to other activities and high academic positions (Vice-Rector of the AU), he led and still leads the studio of classical painting disciplines. Over the past 18 years, the studio has attended almost 60 domestic or non-Czech students at various levels of study. foreign students.
In addition to his own active work, the special sphere of pedagogical work has become the author's lifelong mission and has taken a special position within the broad spectrum of his work from the beginning. So far, however, it has remained somewhat isolated, reduced to the academic environment itself, with no significant public response. It is precisely this fact that responds to the exhibition project of the Gallery of Ján Mudrocha in Senica. His intention is to define the overall profile of the studio and its position in the context of contemporary Slovak art, for example by the works of the previous graduates of Hološek's studio at FVU AU in Banská Bystrica.
The study program of the Studio of Classical Painting Disciplines is represented by all painting genres – landscape, still life, portrait, figural and abstract painting. The imperative in this educational process is PICTURE, its language, articulation and principles, possibilities, meanings. The focus can be classified as a traditional process of constitution of specific codes, individual artistic testimony, which is based on sensory experience, respectively. knowledge, but which has an open field of linguistic, optical, technical, semantic, psychic possibilities of artistic reflection, concentrated in the visual area. Clearly accentuated is personal choice and authenticity, independent of routine, cliché or fetishized poses. In the words of the educator, "Poetics past or present, they are presented as models of creative processes that can be accepted, inverted, developed or fought, and rejected". And in this premise comes a significant factor, the uniqueness of Hološka's pedagogical concept. The results of several of his pupils in the confrontations of the young painting scene finally speak with clear language.
Presentation of more than 40 graduates of prof. Ľudovít Hološka in the suggestive premises of the J. Mudrocha Garden Gallery in Senica illustrates his accented criteria respecting self-discipline and cognition. The exhibition is an homage to the artist – educator, the young creator himself, but last but not least, to painting and painting as such.